" When I was about six years old, during nap time the sun was my guardian angel.
It would understand me without me saying anything. "
Alain Bivas Story
A long lasting love story.
Very young Alain Bivas got intersted in solar power. Nature lover, he left France at 19 and got to learn many crafts. Alain is looking for the harmonious encounter between his love for nature and his own craftmanship.
His first attempt of making a partabola was actually molded in a sand pile on the floor of his bedroom in front of his girl friend Frédérique who joined in the game which was to become a great adventure.
Then came another parabola, too powerful, able to get a paper to burst into flames on a count of seven, in front of his bewildred friends. This parabola revealed to be as dangerous as it was spectacular. Years past, then one day the flat parabola became a deep parabola finally 100% secure.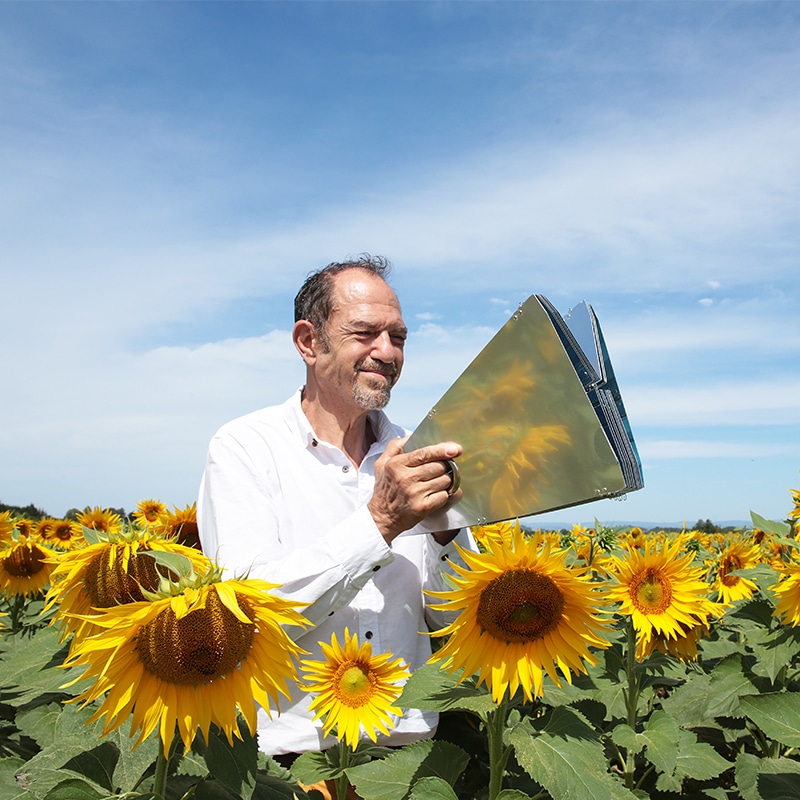 globe trotter
From California to Costa Rica
It is in California that Alain discovers «Heaven's Flame», a book on solar cooking and the history of solar cookers, rich in knowledge, it was going to change his life.
In the jungle of Costa Rica with Frédérique, his new wife and «chef» pionner in solar cooking, began 20 years of solar cooking from stews, to golden crust bread to eventually grilled barbeque, under various latitudes, from the tropics back to Paris and now near Albi where he lives.
Prototype after prototype, Alain will learn to improve the existing cookers, then explore new shapes, new materials, new functions.
The poPOP
Alain Bivas in search of the ideal solar cooker
More than ever convinced by the world wide potential of solar cooking, it is in 2009 that Alain unfolds his drawing paper to create a new model that would be more practical, totaly secure, light and easy to carry, that could be set up anywhere in no time and disappear in a glance, adapted to all cooking modes, with almost no need to be watched, made with healthy materials, made to last.
The road was long from theory to practice, from discouraged moments, to moments of enthousiasm, according to the evolution of the project, until the Gold Medal at the Concours Lépine Int. In Paris in 2011. Today confirmed, and supported by several specialists Alain has started making the SUNplicity solar cooker since 2015, first for France, then Europe and the western world, hoping in the long run to be able to create workshops in third world countries, to bring there an efficient durable and affordable solution.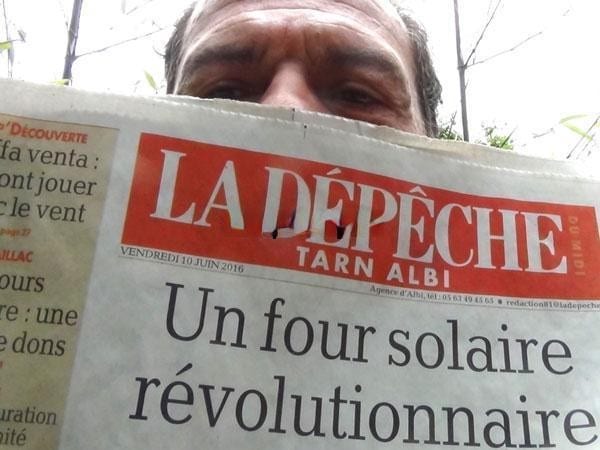 The Lépine Concours
SUNplicity on the podium
Alain Bivas proudly declares that his cooker's power makes photovoltaics seem ridiculous, for a fraction of the cost and examplary carbon print. For Alain solar cooking is nothing less than the most fun, most tasty way to protect the future of our beautiful planet, «in total SUNplicity».
One day, little before the Lépine Concours, as the pressure was at its climax, talking to his father Daniel, Alain was fed up with his submission to the Sun God; Daniel in irony asked «Do you beleive in God, now?» Alain answered: «Me? no I don't, but He believes in my project and He is terribly demanding».
Since then, local people have helped launch the project, from prototype to serial manufacturing. In 2019 Luther Krueger, founder of the Big Blue Sun Museum of Solar Cooking, offered a SUNplicity Solar Cooker to Joseph Radabaugh author of «Heaven's flame»: big emotion, on both sides of the Atlantic Ocean.