Join the waiting list
As soon as our stocks are supplied, you will be informed first.
Find the SUNplicity solar oven as well as a selection of suitable containers in the shop.
The SUNplicity satellite dish is 100% made in France, made with the best quality materials by passionate craftsmen.
This series of SUNplicity solar ovens is sold out.
sign up for the next series of SUNplicity solar cookers available soon: the Popop model.
Write to us at contact@sunplicity.fr,
we will put you on the list of people to notify as soon as the new Popop comes out,
we do our best to reduce the wait due to supply concerns
thank you for your understanding
Here you will find the SUNplicity Solar Cooker and a selected set of cooking pots.
The SUNplicity is made in France, with the best materials by passionate craftmen and women.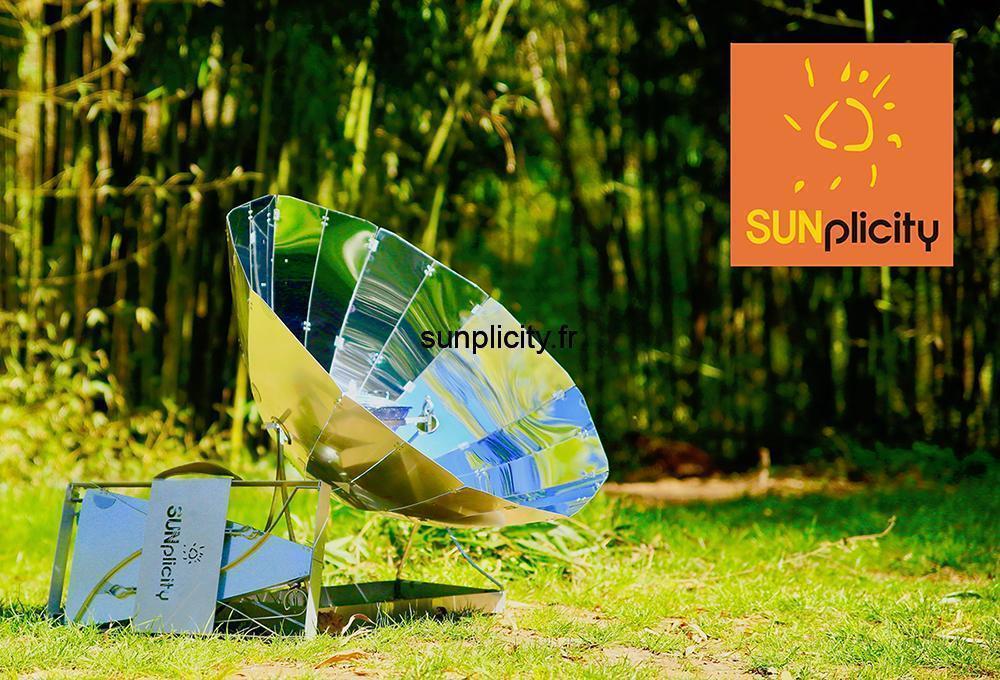 Easy living, efficient and compact it will open like a flower in 1 minute, without any tools, and will fold down just as easily.
Cooking
Empty, the pot will heat up to 230°C-446F within 10 minutes on average,
1 liter of water takes ½ an hour to boil.
The heat well distributed is perfect for tasty cooking.
There is no sticking at the bottom of the pot, no burning; this gives extra freedom to the cook.
Materials
The SUNplicty solar cooker is all metallic for longer lifespan.
Some of the aluminum comes from recycling. The SUNplicity is designed to be recycled.
The cooking is healthy and the carbon footprint exemplary.
One of our goals is to ban plastic.
The making
SUNplicity is proud of its local partenships who are all very involved.
SUNplicity aims for sustainable ethics, both for the environment, and for the people involved.
Learn about our partenerships here.
The SUNplicity pots​​
The purple pot, which can be painted black (barbeque paint), is the original SUNplicity pot. We could say that the solar cooker has been conceived with this very pot in mind. It is very light and can be fixed to the folded cooker for easy carrying. Alain Bivas recommends this pot for stews, soups and liquids, as well as to bake cakes, bread, and why not a lamb shank etc, etc…
The enameled steel pan is practical for pies, meat, fish, eggs… as its shape allows tilting to keep the pot level.
Alain Bivas recommends the use of a lid. This will increase the heat and enhences the flavor. This will also make very tender moist delicious cooking.
The glass lid gives you good view of what you are cooking. The metalic knob withstands the heat the best.
On facebook you will find photos, videos and comments on cooking with the SUNplicity Solar Cooker from anywhere around the planet.